fancy spreading your payments?
Pay in 3 instalments with Klarna
With our partner Klarna, you can spread the cost equally over 3 months, and not pay a penny more than the price shown. Those wake-up-happy mornings just got easier. Simply choose 'Klarna' at the checkout.
ahead of the curve
The soft, rounded edges are so elegant you should probably wear your finest pjs to bed.
as strong as it is gorgeous
With the 100% solid ash wooden frame, this baby is built to last.
tailored support
Nifty height adjustable slats create the perfect support as you snooze.
5 year warranty
Our bed frames last the test of time - we'll even give you a 5-year warranty to prove it.
easy delivery
Get the bed delivered straight to a room of your choice ready for you to assemble.
hassle-free returns
Want to return it? We make things easier by collecting it from your bedroom - for free.
…isn't it just stunning? We've pored over every single detail of the dutton bed frame to give you a jaw-droppingly stylish centrepiece for your bedroom.
With such beautifully curved detailing, it seems almost a shame to cover it with a duvet. But not to worry, the super soft, seafoam green headboard simply refuses to be hidden away. To be honest, we wouldn't think it weird if you decided to display it front and centre in your living room. Cos seriously, just look at it. Hubba hubba.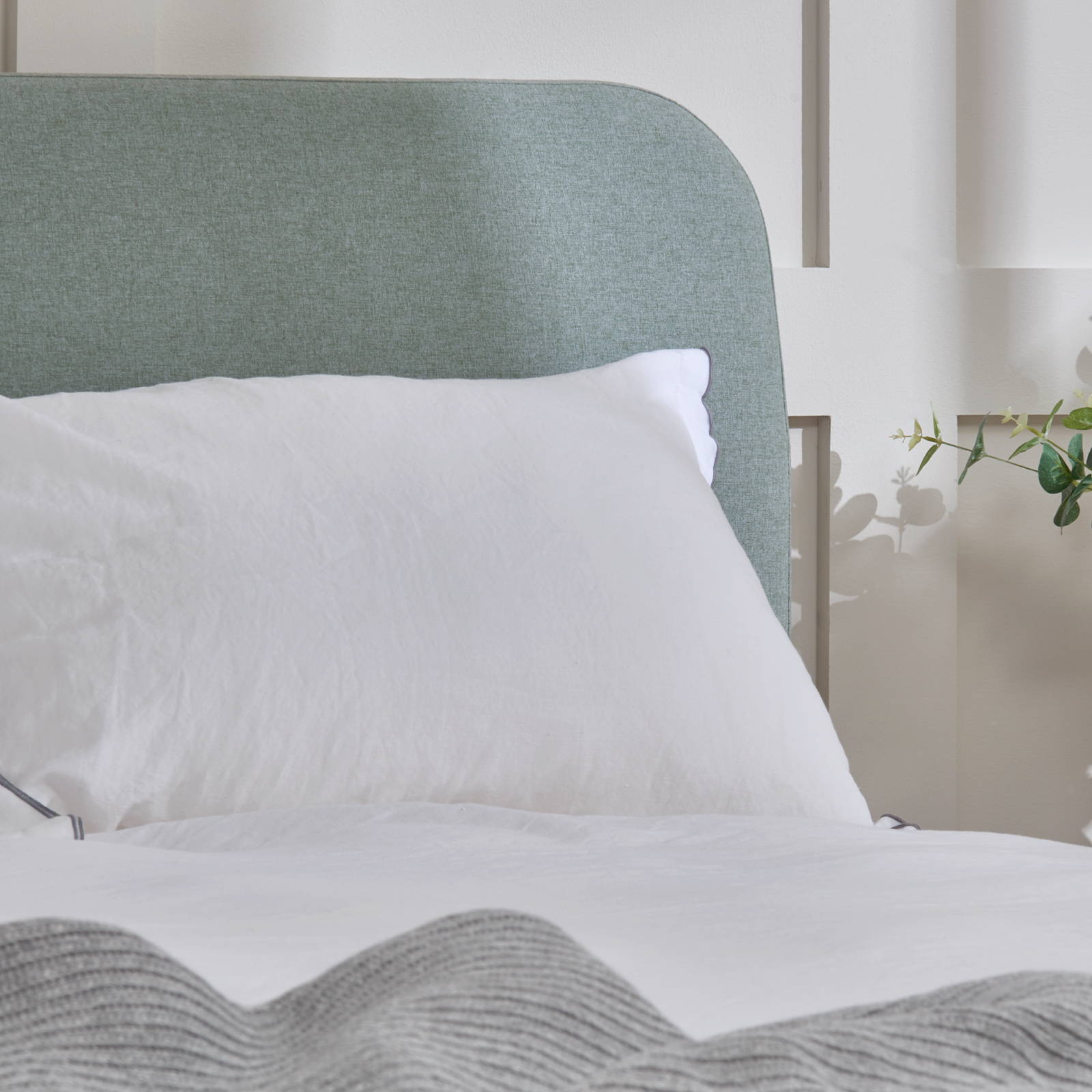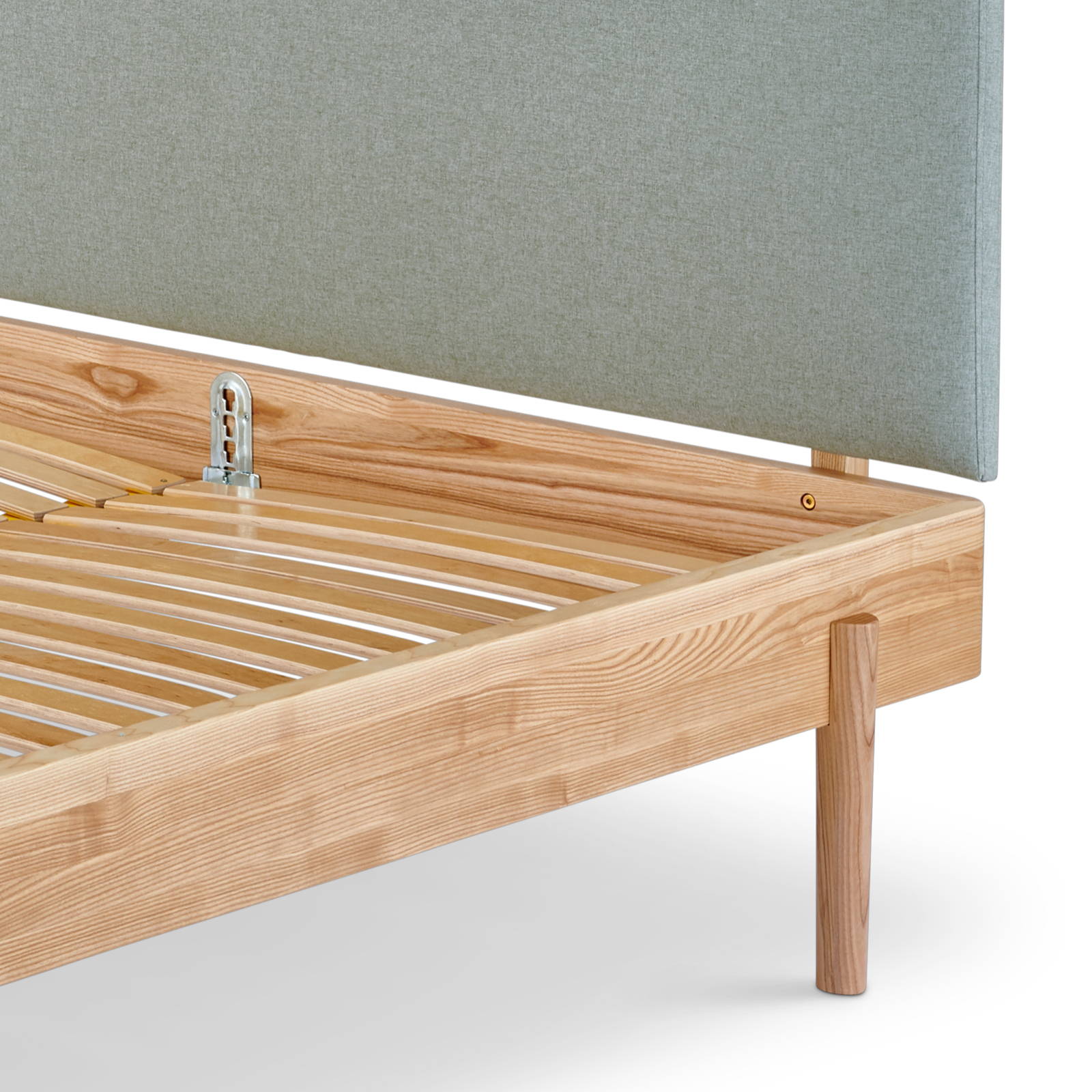 And your front. And your sides. And your feet, if you fancy a little jump. This strong bed frame has over 20 sprung birch plywood slats, which means not only is your bod fully supported in all the right places, but your mattress is able to breathe (this is really important - our mattress care guide explains why). These slats have 3 different height settings as well, so they can be adjusted to best suit you. So considerate.
that's real quality, mate
Lots of very clever, very creative people at eve worked many, many (many) hours to perfect the dutton bed frame. From sourcing the 100% natural, smooth and strong ash wood, to the soft, quality fabric of the headboard - which has gorgeous ash struts running up the back, dontcha know - from all angles, this is beauty that lasts. And as an added bonus, it's super easy to build. So no need for an instruction manual the size of War and Peace. Phew.
| | | |
| --- | --- | --- |
| UK sizes | Dimensions | External size - with headboard |
| | | |
| | | |
| | | |
manufacture, materials and care
All eve upholstered furniture and furnishings comply with the requirements of the UK Furniture & Furnishings (Fire) (Safety) Regulations (1988 - as amended)
Sleep easy with a 5 year warranty. This means we'll guarantee your furniture against faults or breakages for a maximum of 5 years. Just remember to file your proof of purchase somewhere you can find it.
Full details can be found on our warranty page.
We aim to deliver right to your doorstep for free, but some areas might be charged. We'll list any costs at checkout.
Our efficient two-man delivery service will deliver the bed frame straight to a room of your choice, ready for you to assemble. The delivery crew will text you to book your delivery day in advance. Once they are on the way they will call you, usually about 30 minutes before they arrive at your home.
Full details can be found on our delivery page.
We believe that returning something should be as easy as buying it. Return your order within 30 days, provided there is no evidence of use and in the original packaging.
Full details can be found on our refunds and returns page.