simplified comfort
We streamlined the design of the mattress but didn't cut corners on comfort. That's why you'll find the same evecomfort® foam that we use in our original mattress in this one, too.
designed with light relief in mind
Be lulled to sleep with pressure relief where your body needs it most, thanks to our unique contour zones in the foam.
suitable for all sleepers
The lighter's medium-firm feel and 'zoning' supports back, side and front sleepers.
made in the UK
The lighter mattress was created by some of London's top designers and crafted in our UK-based factory.
100 nights to see if you like it
If you don't love it, send it back - no questions asked.
10 year warranty
Our mattresses last the test of time - we'll even give you a 10-year warranty to prove it.
delivery made easy
Get your mattress when it suits you with flexible delivery slots. This might vary per area.
hassle-free returns
We'll collect it from your room, for free.
that extra mile
Forget long response times and unhelpful customer service, our friendly team go above and beyond to get you a speedy resolution.
what's inside?
Comfort doesn't have to be complicated. We used 2 layers to give you gentle cushioning and medium firm support with extra pressure relief. Here's why (sometimes) less is more...
The moisture-wicking material of this top panel stops you getting hot and clammy - a bit like sticking one leg out from underneath the cover.
Our springy foam offers great support for your bony bits and helps to keep your spine aligned. It's also ultra breathable so you're not too hot, and not too cold, but just right.
the supportive base layer
Get your support from a thicker, stronger base foam. And, because we want you to wake feeling your best, we've added our special contour zones to ease the pressure from your body.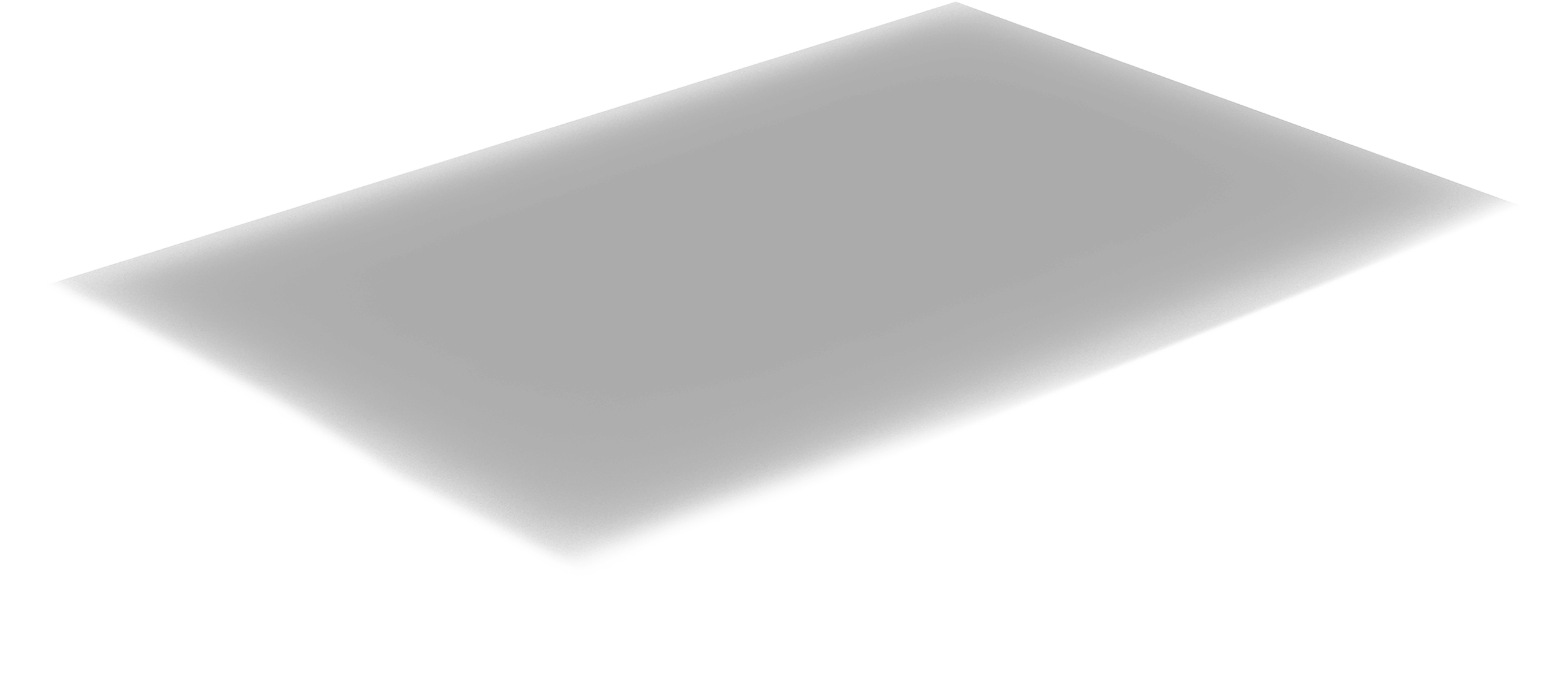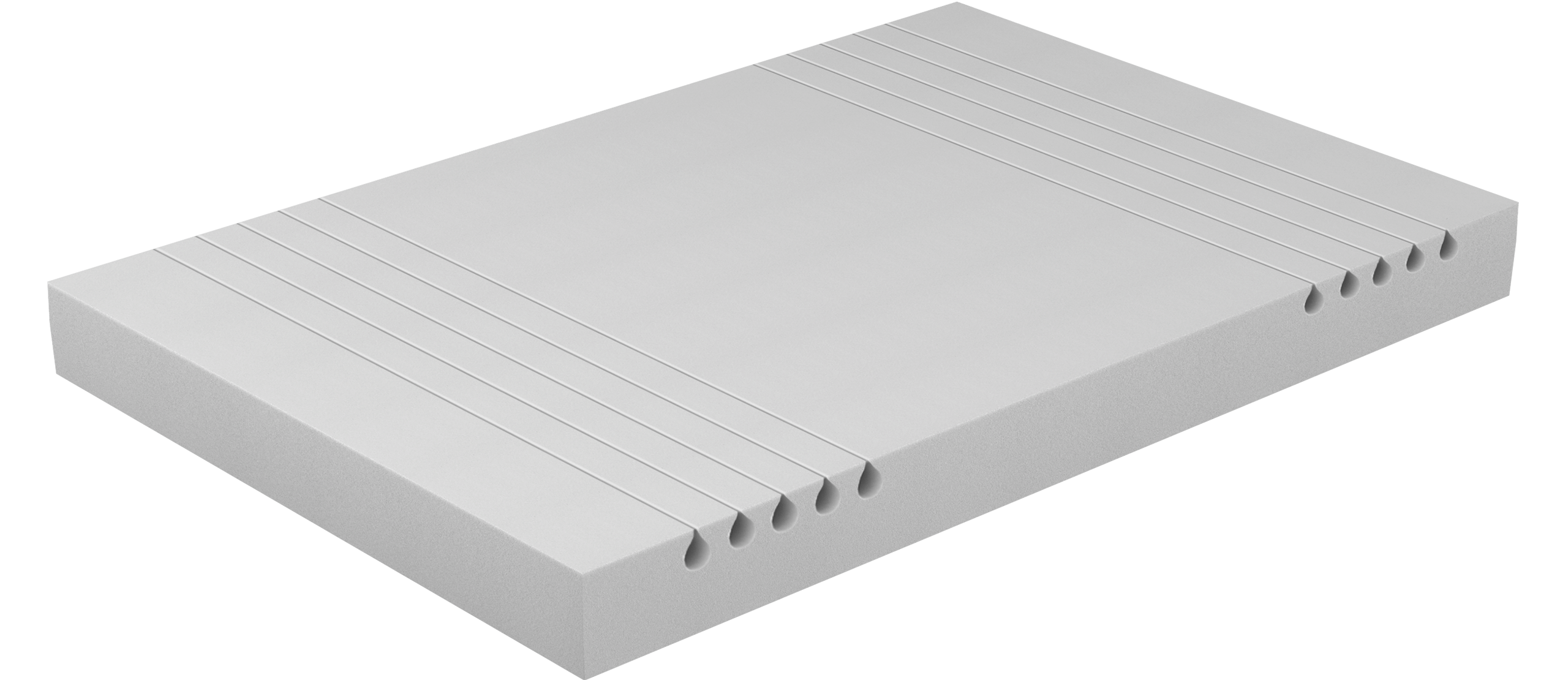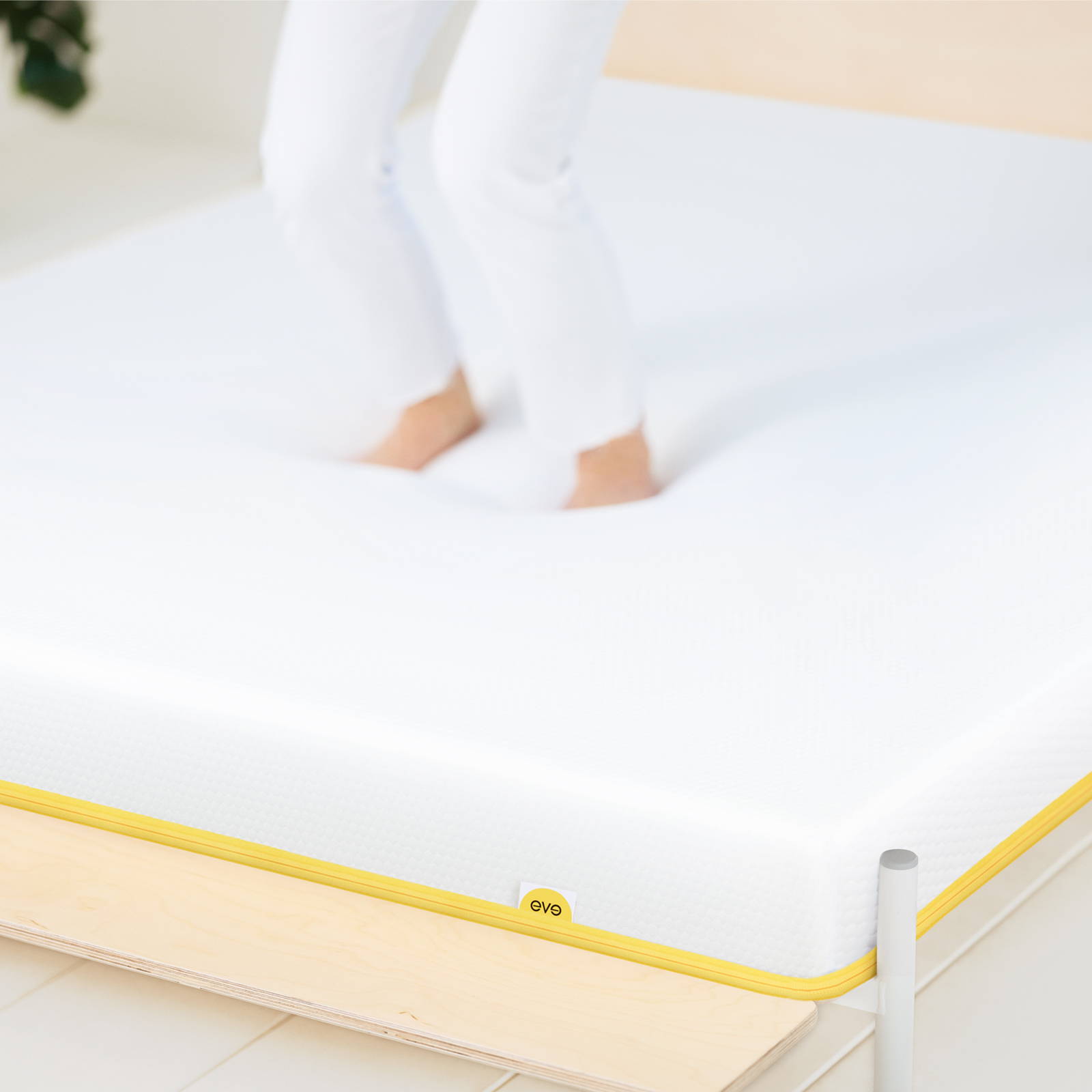 We've got an odd obsession with making you as comfortable as we possibly can. So we created a velvety soft, delightfully cushioned top layer of the lighter foam mattress. And to keep your spine aligned and bony bits supported, we used our clever evecomfort® foam, developed right here at eve towers. So the only thing you'll be sinking into is a deep, deep sleep.
To help you start each morning bright eyed and bushy tailed, your mattress needs to give you top notch support. The bottom layer of the lighter foam mattress has this in bucketloads thanks to the thickness and density of the foam. We even added unique contour zones to give your shoulders some lovely jubbly pressure relief. Be prepared to rise with a spring in your step.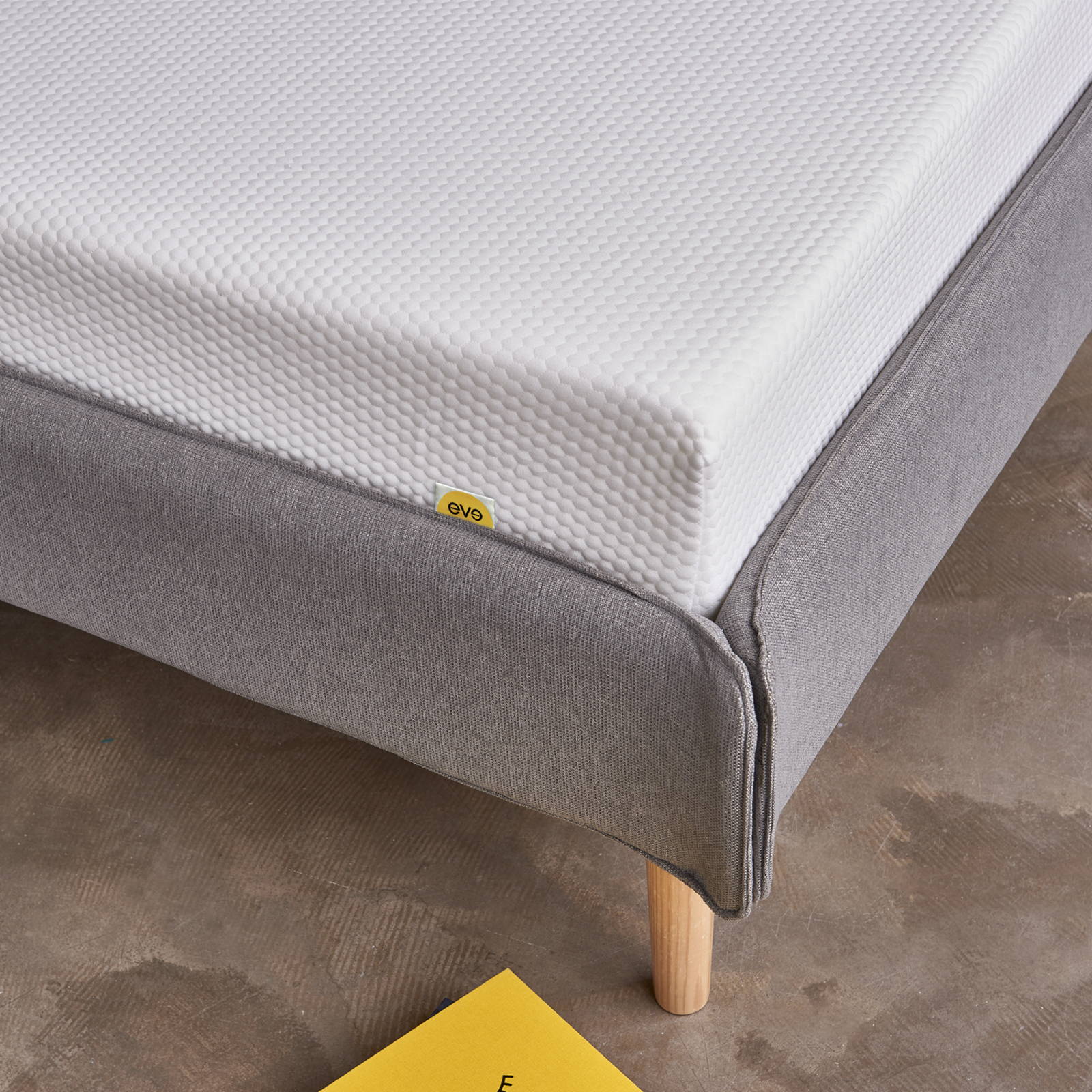 stay perfectly aligned in every position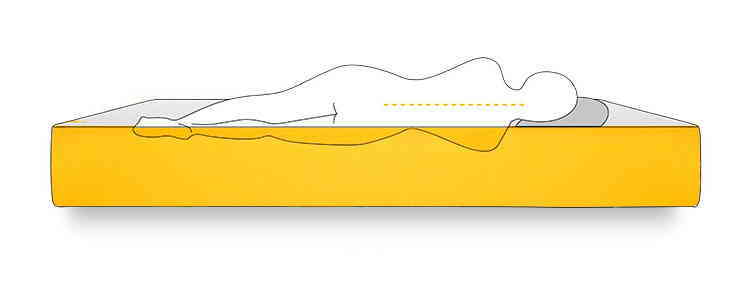 Side sleepers need pressure and tension relief on their shoulders and hips. The gentle cushioning of the lighter mattress's top layer and contour zones throughout do just that.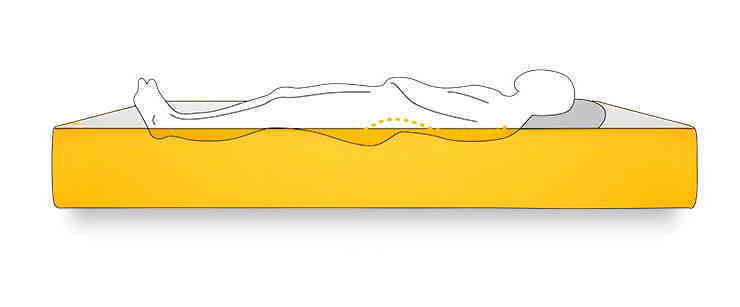 Back sleepers' hips need a firmer mattress to make sure that they don't sink in too deeply. Luckily, the lighter foam mattress has medium firm support to stop the body's alignment going all skew-whiff.
Like back sleepers, front slumber-ers benefit from medium firm support to keep their spine aligned. And - you guessed it - the lighter foam mattress can help with that.
| | | | |
| --- | --- | --- | --- |
| sizes | dimensions | imperial | depth |
| | | | |
| | | | |
| | | | |
comfort, firmness and support
The lighter mattress has medium-firm support and a lightly cushioned feel. Two layers of foam help keep your spine aligned (no matter what position you sleep in) and provide pressure relief.
The foams we use have tiny bubble-like cells that give the mattress breathability.
manufacture, materials and care
country of origin
The lighter mattress was designed and manufactured in the UK.
top cover
The white top panel of the mattress (98% polyester and 2% elastane) can be unzipped and popped in the wash at 40°C.
Do not bleach, iron, dry clean or tumble dry.
mattress care
You don't need to flip your mattress, but you might need to rotate it 180° every now and then to get the most from it. You'll find more care information in this guide.
For a safe and healthy sleep, all foam materials we use are CertiPUR® certified and the washable top cover is Oekotex certified - meaning they have been independently tested to ensure they contain no harmful chemicals.
We source our raw materials from National Bed Federation members to make sure they're the highest quality.
All foam in the manufacture of our mattresses are CFC and PBDE free and all components comply with UK fire regulations BS 7177:2008 +A1:2011 Low hazard for domestic use.
We also make the mattress using ISO 9001 quality standards. From the first cut of the foam to the finished product, we make sure each mattress has strict quality checks. And, for the highest safety and quality, we continually test our foams.


The best way to get to know your mattress is to sleep on it, so we're giving you a whopping 100 nights to make sure your mattress is just right. If you don't like it, we'll sort out collection and refund your money in a jiffy - no questions asked. That's one less thing to worry about during a time of such uncertainty.
Full details can be found on our home trial page.
We make our mattresses to last, but if anything goes wrong, we've got you covered with a 10-year warranty. This covers performance issues, including any problems with materials or manufacture, as well as splits and cracks in your mattress, providing you have used and handled the mattress properly.
Full details can be found on our warranty page.
| | | | |
| --- | --- | --- | --- |
| mattress size | mattress weight | box measurement (w,d,h) | mattress+box weight |
| | | | |
| | | | |
| | | | |
We aim to deliver right to your doorstep for free, but some areas might be charged. We'll list any costs at checkout.
Your mattress arrives vacuum-sealed in a box at your door, so there'll be no 'Ross from Friends' moments trying to get it up to your room. Simply unwrap and the mattress will expand to its full size within a few hours.
Full details can be found on our delivery page.
Not happy with the mattress within your 100 night trial? We'll sort out collection for free and refund your money in a jiffy - no questions asked.
Full details can be found on our refund and returns page.